Tango in Kingston - hosted by Ken Shilling and Ilene Marder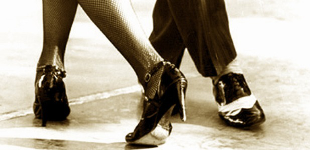 SATURDAY, MARCH 18TH, 2017
MILONGA DEL CORAZON !
@ A.S.K. Kingston NY ~ 7pm-Midnight
The 'most happenin' milonga is back!!!
Fabulous Third Saturday Milonga
hosted by Ken Shilling and Ilene Marder
After a brief winter recess, Milonga Del Corazon returns to bring you one of the very best dance floors anywhere, with gorgeous inspiring music, intimate milonga ambiance, and a crowd of wonderful dancers from across the Hudson Valley and NYC metro area.
To start:
* CLASS
7-8pm: Embrace-Connection-Musicality
Tango Essentials for Beginners-Intermediate with Ilene Marder, founder of Woodstock Tango (celebrating 14 years)
You will join the dance floor looking beautiful and engaged, without having to memorize complicated steps.
No Partner or Experience Necessary.
* MILONGA!!
8pm-Midnight: Dance, Dance, Dance~
MILONGA DEL CORAZON! with DJ La Rubia Del Norte (plays at the top milongas of NYC, with DJ jaunts in Buenos Aires, Toronto, Boston, Miami, Tampa, a. o.)
*** A Fabulous Night of Glorious Irresistible Tangos, with joyous Latin & Swing Breaks! Special Lighting by Evelyn Meier.
Refreshments Buffet (Contributions Always Welcome)~
BYOWine !!
$15 includes Class, Milonga, Refreshments, Table Seating,
Student Rate- $10 with Student ID
GORGEOUS SMOOTH OAK FLOOR!
FRIENDLY VIBE FOR BEGINNERS!
TERRIFIC DANCERS FROM TRI-STATE AREA!
MUSIC THAT WILL MAKE YOU SWOON INTO YOUR PARTNER'S ARMS!
* UPSTAIRS IN THE A.S.K. BALLROOM (Little "Niño Bien)!
@ THE ARTS SOCIETY OF KINGSTON
97 BROADWAY, Kingston, NY 12401
....In the heart of the Historic RONDOUT District of downtown Kingston, NY. Two Blocks from the Rondout Creek & Marina
-EASY TO FIND - STREET PARKING -
Many Terrific Restaurants Within Walking Distance!
Easy on and off from NYS Thruway Kingston Exit 19.
Please join us to celebrate tango, Spring and each other!!
Looking forward to seeing you!
Ilene and Ken
Visit the facebook page at: https://www.facebook.com/events/1676503032648143/
Saturday, March 18, 2017 - 7:00pm
to
Sunday, March 19, 2017 - 12:00am