Thursday Tango Practice session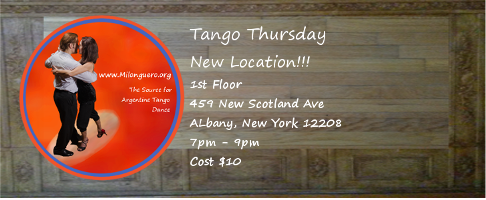 On Thursday January 11th I'll again review the pulpo (octopus) chain of movements !
Thursday Tango will be held in the Albany Studio every Thursday with the exception of holidays from 7pm - 9pm.
1st Floor
459 New Scotland Ave.
Albany NY, 12208

The Cost is $10.00

If it's your fist time attending please arrive by 6:45pm.

Don't miss out ! Check the schedule at the bottom of this page for dates and update your calendars!
We also have a group on Facebook: https://www.facebook.com/groups/ThursdayTango/

This week featuring Osvaldo Pulgliese and others:


Some soulful music that we covered in previous classes:
Ricardo Tanturi:


Rodolfo Biagi:


Alberto Amor:


Roberto Rufino:
Repeats every week every Thursday 16 times except Thu Jan 04 2018.
Thursday, January 11, 2018 -
Thursday, January 18, 2018 -
Thursday, January 25, 2018 -
Thursday, February 1, 2018 -
Thursday, February 8, 2018 -
Thursday, February 15, 2018 -
Thursday, February 22, 2018 -
Thursday, March 1, 2018 -
Thursday, March 8, 2018 -
Thursday, March 15, 2018 -
Thursday, March 22, 2018 -
Thursday, March 29, 2018 -
Thursday, April 5, 2018 -
Thursday, April 12, 2018 -
Thursday, April 19, 2018 -
Thursday, April 26, 2018 -