Milonguero.org BIO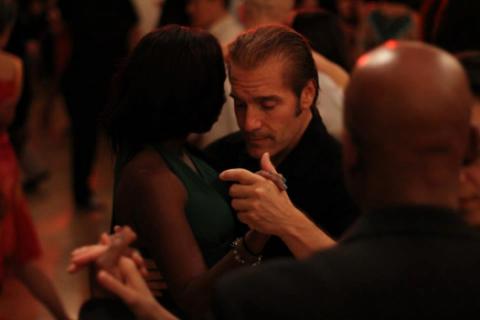 David N De Luise Bio:
In 2004 my uncle, who is a Taylor by trade and knows many people in the ballroom dance community, told me I should learn to dance the Foxtrot, Swing, Waltz, Cha-Cha, etc ...
This nagging went on for about 4 years until I finally surrendered in the summer of 2008 and attended my first introduction which was at Lorraine-Michaels dance studio in Albany NY. It was an evening where they were introducing all the styles that I often heard mention of... So naturally my first choice was Argentine Tango. The class was given by a husband and wife that now I occasionally see at the local Monday night practica.
After taking a few classes, I decided to join a local club in my area called the Albany Tango Society. I discovered that the organizer there has guest artists from Argentina! So I immediately started attending their lessons and workshops.
During this time, I became inspired by Pepito Avellaneda for his Milonguero style of dancing. The orchestras that are popular when dancing in the Milonguero style are: Carlos Di Sarli, Anibal Troilo, Juan D'Arienzo and Miguel Calo. Watching Pepito dance and then listening to these orchastras was all I needed to start my Tango journey.
I have been fortunate in my experience to learn from following artist in a one on one setting, either at Tango festivals or though my local Tango organizer:
Ivan Terrazas
Marianna Galassi
Angeles Chanaha
Michael Nadtochi
Fernanda Cajide
Orlando Farias
Anna Padron
Diego Blanco
Jorge Torres
Luis Adrian Bianchi
Daniela Pucci
Guillermo Merlo & Fernanda Chi
Oscar Casas and Ana Miguel
Silvina Valz
Gustavo Benzecry Sabá
María Olivera
In addition, I have also been fortunate to travel to Tango festivals and attend group classes with the following artists in the global Tango community:
Javier Antar & Kara Wenham
Pablo Inza
Chicho Frumboli
Gustavo Naveira & Giselle Anne
My passion for Argentine Tango has no end. In my spare time, I try to share as much as I can with students at practicas and private instruction. I love traveling to milongas and meeting like minded people in other communities.
When my uncle asks: "what dance are you learning now?" My response is always the same: Argentine Tango.
For more info visit : http://www.milonguero.org .